Stampin' Up! Bonus Days July Promotion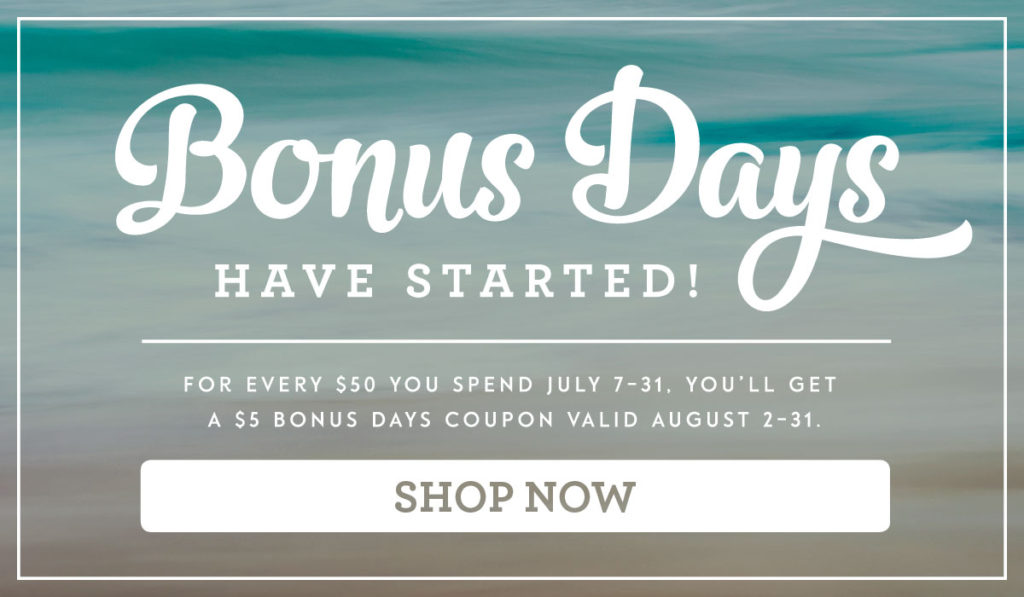 Want to get more free stuff? Starting today, for every $50 you spend from July 7th to  31st you will get a $5 Bonus Days coupon via email to spend August 2 through the 31st. Who doesn't like to get more free stuff? And you don't even have to leave your home to shop. Like looking online but love the feel of a real catalog to look at? Message me and I can get one in the mail for you.
A few things about the Bonus Days deal:
The $50 amount is pre-tax and shipping amount.
You must have an active email account to get the coupon since it is sent via email only
Make sure to write down your code as well as do not delete the email since codes WILL NOT be able to be retrieved once lost and you don't want to lose your free money!
There is no limit to the amount of coupons one can earn or redeem, so a $100 order would get 2 coupons, a $200 would get 4 and so on…
Bonus Days coupon codes can be redeemed for any product, excluding Starter Kits and Paper Pumpkin subscriptions. New prepaid Paper Pumpkin codes can be redeemed.
Questions? I reach me by email or facebook