Beautiful Wall Art
So after making the beautiful thank you table/desk decor,  I was inspired to try some wall art. The yellow flower I used was too big to fit on the fence piece so I was thinking bigger and bigger I got. Using the same bouquet die, I created the orange flower. Now I am not an orange person usually so I think this is the most orange I have used in one project ever. I used the spiral die again on the tangerine flower and used the flower punch on the red flower. If you look closely, you will see I used a colored glue circle in the middle of the red flower. While sadly the blendabilities are no longer available, the technique can be used with any alcohol marker. If you missed that post, check it out here.
I don't have the rosette die from Stampin' Up otherwise this would have been a lot easier, since it cuts and scores for you. I did it the old fashioned was and used three pieces of 4.25 inch x 11 paper and scored it every half inch and adhered together.  What I love is I can easily make one with grey rosettes and do snowflakes instead of flowers, or do leaves instead and have an entryway piece for all seasons.  I really enjoy putting 3D flowers together especially when its petal by petal because you can't really see what the end result will be until you get there. I use my hot glue gun for my flowers and boy am I happy I finally got a silicone craft sheet. It works wonders with hot glue.
Here is a closeup of the flowers, can you tell both the yellow and the large orange are using the same petals? I showed a peek of these two flowers if you follow my facebook page. Depending on how you glue them you get different looks.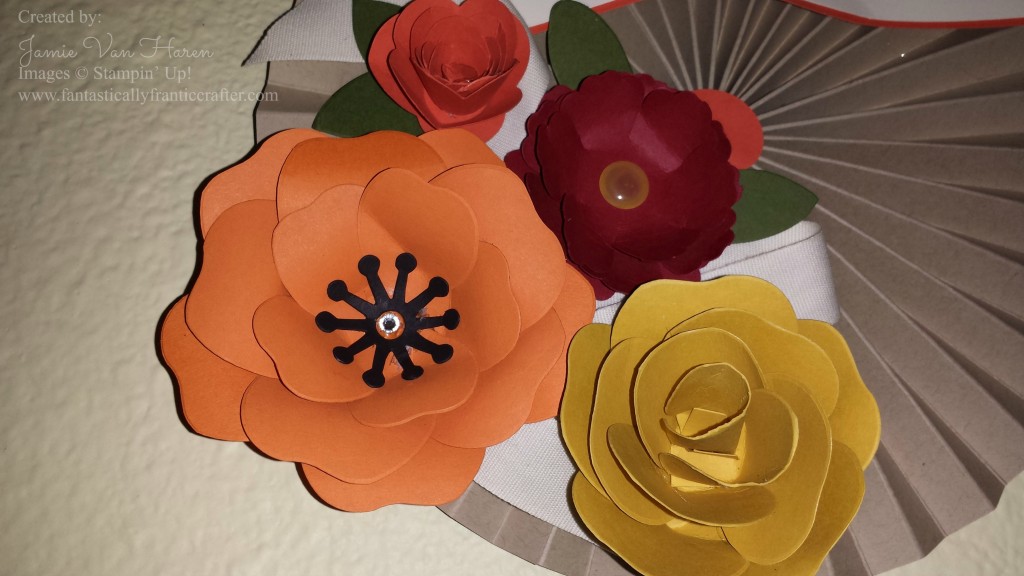 I added some flowing ribbon behind for a little extra and used that same ribbon on the back to be able to hang on the wall. The whole thing measures 10 inches across so its hands down the largest piece I have done that was not a 12×12 scrapbook page.  Hope it gets you inspired to create some awesome decor using paper.
Product List