For my organizing needs, it's paper to the rescue!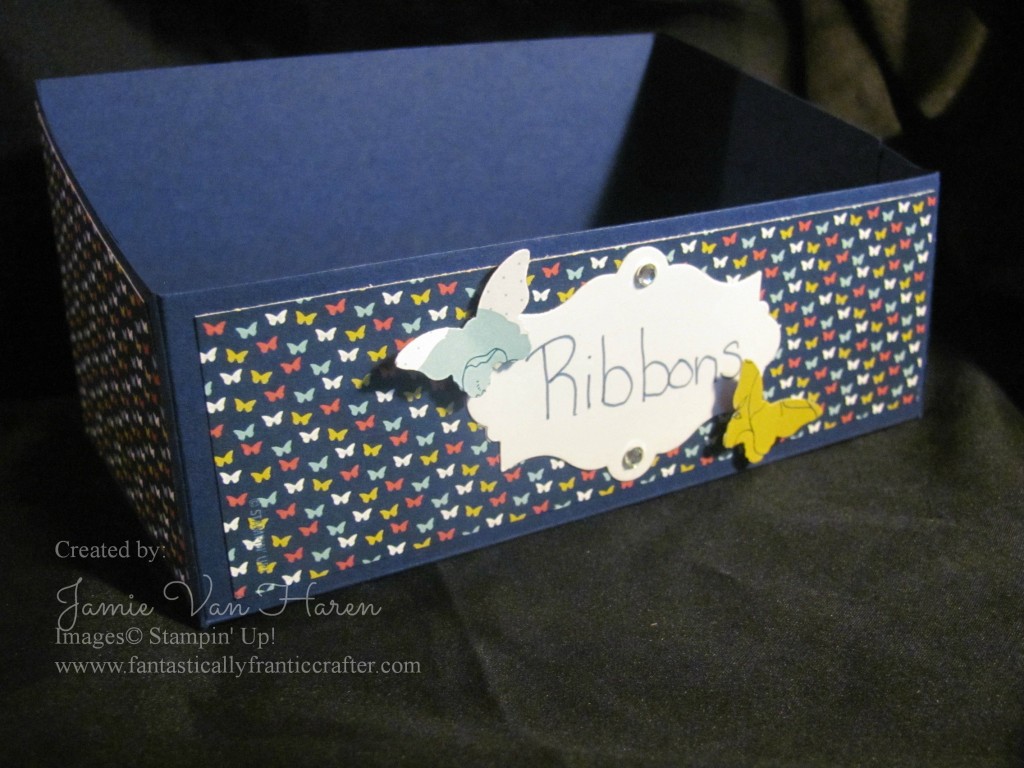 So after looking into ribbon holders that I either A) couldn't afford or B) didn't like, I thought why not make my own? So here is one made out of card stock. I basically took the same idea from the magazine holder and changed all the measurements around. I started with a  12 x 8 3/4 inch card stock piece. I put the short side against the top of the score board and scored at 3 and 6 3/4. I then rotated it to the 12 in side and scored at 3 and 9. This makes a 6 in long box. If you are not in need of one that size you can always adjust this size but I found having the 3 in ends worked well so keep that n mind. My final one doesn't have enough ribbon to totally fill it but I do have a lot that I want to get and so I left room for growth. I didn't take step by step pictures of this one but it is essentially the same as my magazine holder that you can get more photos here.
You need:
One piece of card stock cut 12 x 8 3/4 inches.
Score board
Scissors
Adhesive
Put your paper the 8 3/4 side up and score at 3 and 6 3/4. Rotate 90 and score at 3 and 9.
Cut along the 8 3/4 side scored lines until they reach the lines that were done at 3 or 9.
Fold the middle piece straight up so you can adhere the thinnest piece to that first. I put the 2 in strip at the bottom of the outside of the middle layer just because I wanted a little more height on the inside.
Then take your longest piece and use that on the outside where it is visible. Adhere.
I decided to cut my sides at a slant so I took my scissors and did that now. Actually first I took a ruler to draw a straight line from top point to the corner of the short end but that isn't necessary if you aren't as selective as I am)
So hopefully those directions were a little bit understandable. But as I always suggest, feel free to experiment however you want.