Fun baskets
I have been trying to find a way to use my retired 12×12 paper and I came across this cute basket on pinterest. The first one I did was smaller than this and used a 6×6 but the nice thing is you can also use 9×9 or 12×12, as long as you can divide it into threes. Last time I looked at the original tutorial, there were no pictures left so I figured I would make a larger one and post images as I went.  The original had handles and I chose to skip that for this larger basket but I wil put in those measurements for handles here as well.
For the larger sized basket the bottom square was 4×4 but the dimensions of the top were 4×7.
You will need:
All measurements in inches
     12×12 cardstock or dsp
     2 1×12 strips for handles-optional
     4 brads to hold the handles-optional
     Scoring board
     Scissors
     Sticky strip, tombow or any preferred adhesive
     A fun shape punch out/die cut to cover your seams
Remember that this pattern will be for 12×12 but I will put the measurements for the other sizes in parentheses.
Put your paper on your score board and score at 4 and 8 inches. (2&4, or 3&6) Rotoate the paper 90 degrees and score again at 4 and 8 (2&4, 3&6) so it looks like a 3×3 block grid. (notice I penned the lines so you can see)
Next slice along two 4in lines on each side and cut the middle section into a triangle. I"m a bit anal retentive so I like to mark the half way point so I can have an even triangle.
Divide the other two squares into 3 even stripes up to the score line. Cut the two inside stripes down a quarter inch so you don't have extra paper when folding.
Take the outside (and longest stripe) and glue together in a straight line. Doing both sides at once helps to hold the shape of you basket so you can make sure it is even.
Continue to pull the next set of stripes and put and adhere to the closest to center you can get it. Don't worry if there is going to be some overhang. Nothing a quick snip of scissors can't fix. Then bring your triangle piece to finish. Snip any extra pieces you have hanging out.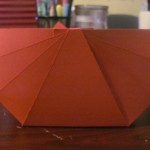 To cover the tip of the triangle, I chose a cute retired blossom punch I had but you can pick any shape that fits what look you are going for.
My top example I added a flower and chose to forgo the handles but for this example, I decided to add a set of decorated handles. Take your 1x12in (.5×4 or .75×6) and poke holes in the base and the handles and hold together with a brad.
I plan on using this basket to hold all my baggies of embellishments and I will edit this later to add the pictures once I buy new batteries! I hope this tutorial was helpful considering it was the first I ever typed up. Check out the original where I got it,http://www.thelittleblueroom.com/2009/10/make-take-mondaya-little-late.html but I saw there were no more pictures and I am a picture person so I thought to add some pics at least.